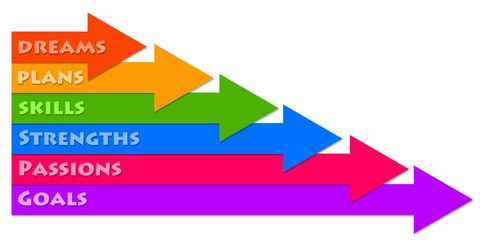 We often think about life balance as a zero sum game. We assume that if we strive in one dimension then we need to make sacrifices in another. But there is a more inspiring way of thinking, which shows us that we don't have to make trade-offs or certainly not as often as we think. This view of life allows us to integrate all that matters and takes away the stress of compromises.
Integration happens when we apply our strengths and our values to create the foundations of the four main aspects of our life: home and family, work, interaction with our communities and how we take care of ourselves. When we do this our strengths and values overlap and feed each other, enriching all dimensions of our life rather than competing between each other and forcing us to make compromises.
Stewart Friedman, a Wharton professor spent thirty years researching and studying how to replace the misguided metaphor of "work/life balance" with something more realistic and sustainable. If you're seeking "balance" you'll never achieve it, he says.
In his books Total Leadership: Be a Better Leader, Have Richer Life (2008) and Leading the Life You Want: Skills for Integrating Work and Life (2014) he articulates this integration process and suggests that we compare our ideals and values versus daily reality as a percentage of total time and energy. How important is each domain to us? An example is: 30% home and family, 30% work, 20% community, and 20% self. Now, reflecting on what is actually happening look at what percentage of focus and energy we actually put into each domain?
There is often a gap between ideal and reality. How can we get them into better alignment? We can create a synergy by looking for actions that benefit multiple domains of life at a time, rather than looking for tradeoffs that balance them precariously against each other. If work and home and community and self are not in conflict—if we can find actions that benefit more than one domain at a time—we are better able to reach for a fulfilling life.
Friedman illustrates his research through compelling original stories of some remarkable people such as former Bain & Company CEO and Bridgespan co-founder Tom Tierney, Facebook COO and bestselling author Sheryl Sandberg, US First Lady Michelle Obama, renowned artist Bruce Springsteen.
"It's not a matter of how much attention you're devoting to the different parts of your life but, rather, how the interests you are serving in one domain relate to your interests in the other domains," says Friedman. "Are you being the person you want to be, no matter where you are in life?"