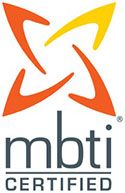 Improve the performance of your people, teams, and organization with the world's most trusted personality assessment.
The Myers-Briggs® (MBTI®) assessment is a powerfully versatile solution that has helped millions of people around the world better understand themselves and how they interact with others.
It has also helped organizations of all sizes address their needs, from team building, leadership and coaching, and conflict management to career development and retention.
Bo Golovan is a Certified Practitioner in the Myers-Briggs Type Indicator® assessment instrument.